One of the most scenic running races in America! 1/2 Marathon on trials through National Forest. Long Sleeve Event T-Shirt and Goody Bag (including discount coupons) with entry. Finisher Medal for 1/2 Marathon. Medals for Top 3 Finishers in Age Group (1/2M, 10K, 5K). Aids Stations throughout all courses.
Groom Creek Classic 9th Annual 1/2 M, 10K, 5K & 2m
Saturday, September 28, 2013 @ 7:00 AM
2013 Results are Posted!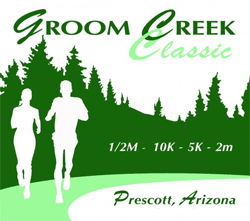 2013 Run Results
Thank you to EVERYONE involved for a great 2013 event!  We could not do it without you.
---
THE PLACE: Groom Creek, located 5 miles south of Prescott in the Ponderosa Pines.
DIRECTIONS: As you enter Prescott westbound on Highway 69 from I-17, or southbound on Highway 89, the road will turn into Gurley Street. This is the main thoroughfare of Prescott. At Mt. Vernon Street, turn south (i.e. left). If you reach Jack in the Box, or Downtown Prescott, you've gone too far. There is a Friendly Pines Camp sign on the southwest corner of Gurley & Mt. Vernon.
Mount Vernon St. then becomes the Senator Highway; follow the pavement up into the hills about 5 miles.
Turn right at Marapai Road, and follow the pavement about 1/2 mile. Turn left on Peter Mackin Drive (dirt road), which will become Friendly Pines Road as you cross Groom Creek at the bottom of the hill. About 1/2 mile beyond the end of the pavement, you'll see our large sign on the right. Turn in and follow the pavement into camp!
PARKING: Carpooling is recommended, but Friendly Pines Camp will provide parking for 200 cars. Overflow parking will be available. All parking is free.
RACE TIMES AND PACKET PICKUP
Attention runners! We are looking forward to seeing you all on the 28th. Be ready to enjoy another great morning in the pines of Groom Creek. With that, here are a few updates for you…
Packet Pickup: You can pick up packets and check in the morning of the run. We recommend showing up 30-45 minutes before your run kicks off to check in. For your convenience, there will be an attended area where you can check in your race packets, jackets, and other non-valuable items after you check in.
Run Times:
1/2 Marathon – 7:00 am
10k – 8:00 am
5k – 8:15 am
2-Mile Fun Walk – 8:30 am
Awards: Awards will be announced and given at approximately 10:00 am.
SAFETY FIRST:
First aid will be available on the course.
A visor, sunscreen and proper shoes can help get you across the finish line safely. Also, it can be a little cool in the mornings so pack accordingly. Event will be held rain or shine, so be prepared!
No bicycles, roller-skates, roller blades, pets, alcohol, or vehicles allowed on the event course. Jogging strollers will be permitted only on the fun run/walk You agree to abide by these rules by submitting your registration.
Additional Run Information:
Click here to view a run map with elevation information (2m, 5k, and 10k)
Avenza PDFMaps Smartphone App
Runners can download an app from Avenza called PDFMaps to their smartphone
Apple and Droid OS versions available (download from iTunes or Google Play)
The app can view a Geo-referenced PDF on your phone.
Runners can download this map, configure it with the phone app, and then will have a GPS location of themselves on the Race course within the Avenza App. Runners can see water stations and turnarounds.
Comments
comments