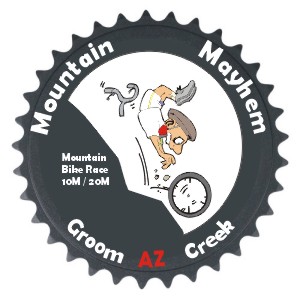 The 2017 Mountain Mayhem Bike Race IS PRESENTED BY HIGH GEAR BIKE SHOP OF PRESCOTT.  High Gear has partnered with the GCFFA as the main event sponsor for this race.
CALLING ALL MOUNTAIN BIKERS!!! Join in the fun at the third annual Mountain Mayhem MTB Race on Saturday May 20th, 2017!!
Come up to the pines and ride either 10 miles or 20 miles! 10 milers will be primarily on trail 396 while the 20 milers will do the 10 mile North loop and a 10 mile South loop including 384 and FS Rd 707.

2016 RESULTS:
Click here for north loop map.
2017 will use the same path as 2016.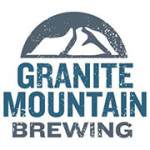 Granite Mountain Brewing is brewing a special light beer just for the 2017 Mountain Mayhem event!

Join us for the Mountain Mayhem race party at Granite Mountain Brewing on Friday, May 19, 2017.Enjoy the new Mountain Mayhem Brew AND get $10 off of your event registration if you sign up on-site!
Medals will be awarded to the top 5 finishers in each event class. Event classes include:
10 mile geared
10 mile single speed
20 mile geared
20 mile single speed
Awards will be 5 deep in the 10 and 20 mile distances, and the raffle prizes will not disappoint!! Oh ya did we mention that your registration gets you a free shirt and lunch afterwards??
You can register on-site the day of the race. Registration fee is $70
We are excited to have HIGH GEAR BIKE SHOP as the dedicated sponsor at this event again for 2017!!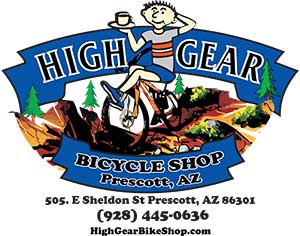 Look for High Gear's booth at the start line providing last minute wrench work before you head out on the trail. Be sure to stop by and thank the folks for their sponsorship. Be sure to stop into their shop on the corner of Sheldon and Mt. Vernon in Prescott.
Address: 505 E Sheldon St, Prescott, AZ 86301.
Phone: (928) 445-0636
Website: High Gear Bike Shop
Here's the Skinny (or Fat if you prefer):
Mountain Mayhem is a mix of mostly cross-country and some all-mountain styles of riding. There are no drop offs or steps, the trails are all continuous. The North loop is an intermediate rated trail (396) that has a consistent mix of short climbs and descents. It is part of the great Prescott Circle Trail and is one of the best trails in Prescott! The South loop is a combination of Forest Service Rd 707 and a more difficult trail (384). The South Loop offers some challenging two track descents and, some grinding climbs. The extremely difficult climbing section of the 384 has been bypassed via Wolf Creek Road for a killer view and connects back to 707 to end the race!
WHEN: Saturday May 20th 2017.
Event Classes and Categories:
20 Mile Course Geared Bikes Men
20 Mile Course Geared Bikes Women
20 Mile Course Single Speed Coed
Tiny Terrain Kids Race*
10 Mile Course Geared Bikes Men
10 Mile Course Geared Bikes Women
10 Mile Course Single Speed Coed
Middle Mayhem Kids Race**
* = Tiny Terrain Kids Race is for pedal-less bikes and bikes with training wheels.  Distance is approximately 1/2 mile.
** = Middle Mayhem Kids Race is for kids between ages 5 and 12. Distance is approximately 3/4 mile to 1 mile.
Awards:
Medals will be awarded as follows:
Geared classes – Top 5 overall in each male and female division of each distance.
Single speed – Top 5 overall in each distance class.
Kids races – All kids will earn a finisher medal when complete with the course.
Goodies & Swag:
FREE event t-shirt for adult riders.
FREE hot lunch in the park after the race.
Awesome raffle prizes!!  One of the prizes we will be donating is a brand new BBQ smoker, donated by FerrellGas!
Registration Details and Start Times:
10 and 20 Mile Race Options
$70 registration fee.
20 mile races start @ 9:00 am.
10 mile races start @ 9:10 am.
Same day registration will be available!
Please Register

BEFORE

Friday May 6th to guarantee yourself a t-shirt and lunch!!
Kids Race Option
FREE ENTRY.
Medal of Completion awarded to each finisher.
Tiny Terrain Kids Race is for pedal-less bikes and bikes with training wheels.  Distance is approximately 1/4 mile.
Middle Mayhem Kids Race is for kids between ages 5 and 12. Distance is approximately 3/4 mile to 1 mile.
Race will be on paved road. Traffic control will be present.
Start time at 11:00 am.
Register day of event only.
You can register on-site the day of the race. Registration fee is $70
THANK OUR SPONSORS:
We could not do it without these folks! Click on any sponsor logo below to visit their website.
Course and Location Information:
WHERE: Groom Creek, located 5 miles south of Prescott in the Ponderosa Pines. THE COURSE: This race is located in the cool, scenic Ponderosa Pine forest of Groom Creek just 5 miles South of Prescott. Both the 10 mile and 20 mile races start and finish at Groom Creek Fire Dist. St. 41. Both races consist of the 10 mile north loop, with the 20 milers heading out for another completely different 10 mile south loop. Both loops are a mixture of single track trails and two track forest service roads. There is a small paved section at the very beginning winding through the community.
The North loop is mostly single track. The main vein of this loop is the awesome trails 330 and 396! Starting at the station there is a brief tour of the Groom Creek community as you head towards school house gulch rd and Senator Highway. Then the single track begins at the 396 trailhead, as you decend onto 396, then north on 330.  You will then loop back into 396. You will enjoy a mixture of awesome climbs and giddy descents as you enjoy the majestic forest!
The South loop is 90% two track. This loop combines trails 384 (two track) and parts of FS Rd 707 to offer a very challenging yet rewarding second half should you choose the 20 miler! After completing the north loop you zip out the south end of the community and connect with the 707 road. You will cut over to the 384. After the "Mayhem" portion of the race you will climb back up to Wolf Creek Road. From there its a nice gradual climb with awesome views of Maverick Mtn. and Mt. Union!! You will follow Wolf Creek Rd back to the 707 road for a dash back to the station to finish right where you started!
COURSE MAPS (note that the files are a little large – please be patient when downloading):
****UPDATED COURSE MAPS 4/29/16 (Good for 2017)*****
PARKING: Carpooling is recommended, but Friendly Pines Camp will provide parking for 100 cars. Overflow parking will be available. All parking is free.
CHECK – IN: You can check in the morning of the race. We recommend showing up 30-45 minutes before your race kicks off to check in. Don't forget that the parking lot is approx. 0.3 miles from the start line. For your convenience, there will be an attended area where you can check in your jackets, and other non-valuable items after you check in.
SAFETY: All bikes must be of the "mountain bike" genre and riders are expected to be self-sufficient while on the course. There will be first aid available on the course and at the start/halfway/finish.  All bicycle event participants are required to wear eye protection and a helmet that complies with U.S. CPSC safety standards for bicycle helmets. Headphones connected to MP3 players or similar devices that prohibit a rider's ability to hear activity around them are not permitted. This includes iPods, etc.
ETIQUETTE: Each participant must be considerate of other riders when passing or being passed. Verbal communication and/or the use of a bell are necessary for a successful pass. When being passed, please provide adequate space when available for the faster rider to go by. Remember that bikers yield to horses and pedestrians and the trail(s) are open to the public during the race. Please do not litter and don't forget to thank a volunteer!
DIRECTIONS to the RACE:
As you enter Prescott westbound on Highway 69 from I-17, or southbound on Highway 89, the road will turn into Gurley Street. This is the main thoroughfare of Prescott.
At Mt. Vernon Street, turn south (left). If you reach Jack in the Box, or Downtown Prescott, you've gone too far. There is a Friendly Pines Camp sign on the southwest corner of Gurley & Mt. Vernon.
Mount Vernon St. then becomes the Senator Highway; follow the pavement up into the hills about 5 miles.
Turn right at Marapai Road, and follow the pavement about 1/2 mile. Turn left on Peter Mackin Drive (dirt road), which will become Friendly Pines Road as you cross Groom Creek at the bottom of the hill. About 1/2 mile beyond the end of the pavement, you'll see our large sign on the right. Turn in and follow the pavement into camp!
http://www.groomcreek.org/wp-content/uploads/2011/04/RaceMap.pdf. This is a map to get to the event, not a course map.
You can register on-site the day of the race. Registration fee is $70
Previous Event Results
Comments
comments